Matthew Cotton: Head Programmer/Shop Production Manager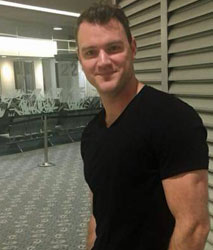 Matthew has trained and has 12yrs experience on Mastercam and 3yrs experience on Hypermill. He also has 6yrs experience on Solidworks.  (3D modelling and Design software)
Matthew has worked through the specialized grinding processes for machining hard ceramics Silicon nitride & Yttria stabilized Zirconia ceramic. Enabling accurate machining of ceramic to very accurate tolerances.
The 4 axis and multi-faceted 3D surface machining has been the main focus of most the machining Mathew has been working on this past year. He has worked in Stainless steel, Titanium, high grade Aluminum, and some other exotic materials including; medical grade plastics, Radel, and metals such as kovar.
Matthew has developed a unique skill set of mastering the micro parts machining from unique micro holding devices to new methods and procedures of machining. Mathew enjoys the challenges of micro parts that are on the limits of possibility.
During this time, Matthew  has headed the development and procedure for many of our prototypes, as well and the production runs we made.
His experience with the different materials, and using our high speed spindles up to 200,000. rpm, give us the edge when encountering new projects that have not been manufactured before.
Matthew's ability to "think outside the box" sets him apart from conventional machining and in many cases, combined with the power of MasterCam X, and the development of new ways to tool path, has given us a huge advantage as we tackle projects.
With 12 years working with CNC machines on micro parts, he has developed a niche. He has had the hands on experience of working with a huge range of exotic materials, and with that, some very specialized tooling. Matthew has built a good working relationship with the designers of the companies. Many times working closely with the engineers fine tuning the final finishes and demanding tolerances required by some prototype parts.