Steve Cotton: Owner / President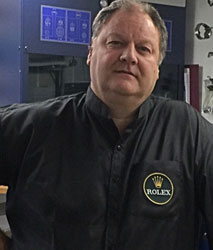 35 Years Rolex Servicing Experience (to February 2020)
2007 to 2014 : servicing Rolex watches for Paul Mara Jewellers.
2014 to 2019 : worked With Palladio jewelers (Rolex authorized jewelers) servicing Rolex watches
1994 to 1995 : Rolex head office Australia – 9 week training courses
1998 to 2002 : Diamori Jewelers 
Education
Jan 1999 ROLEX CANADA, Toronto, Canada
Successfully completed a 1 week refresher course.
Instructor – O'hannas Service Dept & Gerry O'Hanlon
Feb 27 – Mar 17 1995 ROLEX GENEVA. Geneva, Switzerland
Successfully completed a Practical/theory course. 1 month
Instructor – Kurt Bruno
1994 (9 weeks) ROLEX AUSTRALIA, Melbourne, Australia
Successfully completed a Rolex mechanical movement's course.
Instructor – Russell Easton
1982 ETA-EBAUCHES, SA, Geneva, Switzerland
Successfully completed course on quartz and mechanical movements
1982 W.O.S.T.E.P. , Geneva, Switzerland
Successfully completed Watchmakers of Switzerland Training and Education Program, including course in modern watch servicing (theory/practical, shop work, electronic and quartz watches, sales training and factory visits)
98% in final theory and practical exam.
1978-1981 NZHI, New Zealand
Watch and clock making and jewelry manufacturing apprenticeship.
Public School attended – Rodney College Wellsford, New Zealand. Completed school certificate (High School diploma equivalent)
Mr. Cotton has been in this industry for 30 years, starting at age 15. He trained under his father, Peter Cotton, one of the leading watchmakers in New Zealand, and completed his NZHI (New Zealand Horological institute) apprenticeship in 1982 and ran a second branch of the family business. After completing his apprenticeship, he went to Switzerland to take the Watch Makers of Switzerland Training & Education Program. This is the most respected and highest grade course in the world. Mr. Cotton attained the top marks in the course.He then started and managed Orewa Time Center, a watch and clock repair sale and service shop, in New Zealand. This business ran very successfully for six years until 1997, Mr. Cotton was made and offer by Rolex Australia and took the position. Orewa Time Center employed seven staff at it peak. During this time the Orewa Time Center won two national awards for creating specialty jobs for physically disabled persons.
Mr. Cotton also set up and ran Orewa Time Imports. This business imported watches and watch material from Hong Kong and parts of China. Its main purpose was to reduce the wholesale costs paid by retailers. The business quickly grew and cornered 80% of the targeted market in New Zealand. It became too much to handle and was sold.
Steve Cotton Worked with Rolex Watch Australia in the head office in Melbourne & also in Rolex Switzerland for 4 week training on Rolex watch movements and case finishing.
Mr. Cotton moved with his family to Canada, where he set up his own business contracting watch and clock repair, Main Contract Golden Hour Clock Shop with Hess and Ronnie Nyenhuis. It was very successful. Then again Mr. Cotton was offered by Rolex Canada to work with Diamori Rolex Jewelers servicing Rolex watches.
In December 1999 Steve Cotton went to work for Diamori Rolex Jewelers, and set up the Complete Rolex Service Center. This included building a parts and inventory control program for ordering, invoicing, work orders and customer database. He also ran the Rolex retail and corporate sales. Mr. Cotton's main job was to service Rolex watches and handle all the customer service inquires. This service center ran under Rolex international standards until April 2003, when, after a motor vehicle accident, Mr. Cotton left the business to take some time out.
Mr. Cotton then was employed as a Sales manager by Dual Shield Security (DSS), a new software development company in Parksville. He took DSS to an international level, presenting DSS to the highest level of government in Israel, the U.S. and Canada.
His industry and business experience gives him valuable knowledge of sales, marketing, manufacturing, distribution, financing and record keeping.
Micro Precision Parts Manufacturing Inc started Dec 2004 combining the watch and clock industry in quality service and repairs. Micro Precision Parts Manufacturing Inc is now servicing high end watches and clocks and restoring vintage time pieces. We also manufacture small parts for almost any custom or obsolete parts in a variety of materials.